Diverse Menu
Yeh's Bakery is dedicated to providing a delightful assortment of pastries and desserts that cater to a variety of tastes. Yeh's menu showcases an enticing blend of traditional Chinese pastries and indulgent Western-style treats, ensuring there is something for everyone to enjoy. Indulge in the irresistible flakiness of Yeh's egg tarts, or surrender to the creamy goodness of Yeh's custard-filled buns. Each bite is a journey of flavors and textures, crafted with care and expertise. Yeh's invites you to explore Yeh's diverse menu and experience the pleasure of Yeh's delectable creations. Prepare yourself for a truly unforgettable treat at Yeh's Bakery!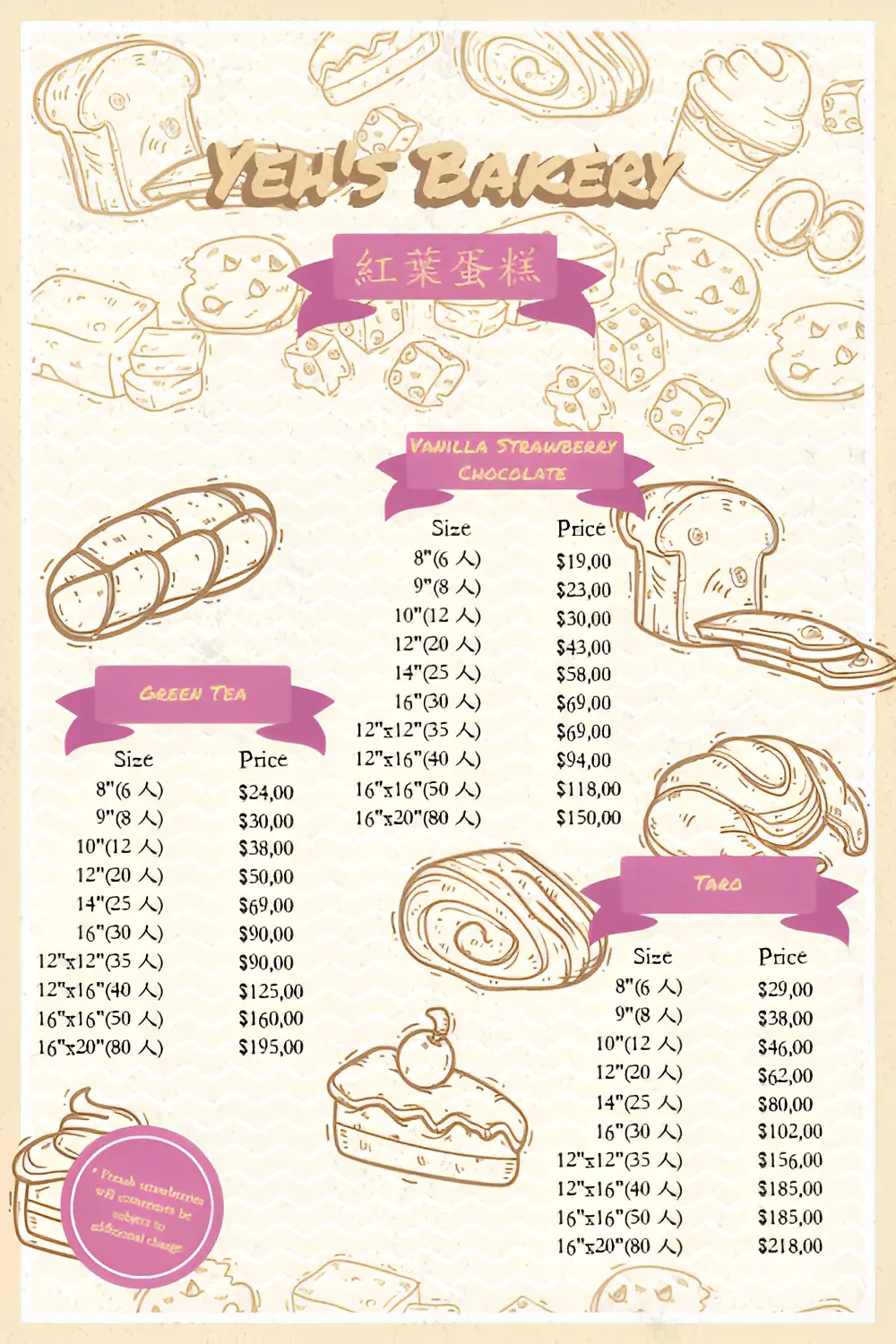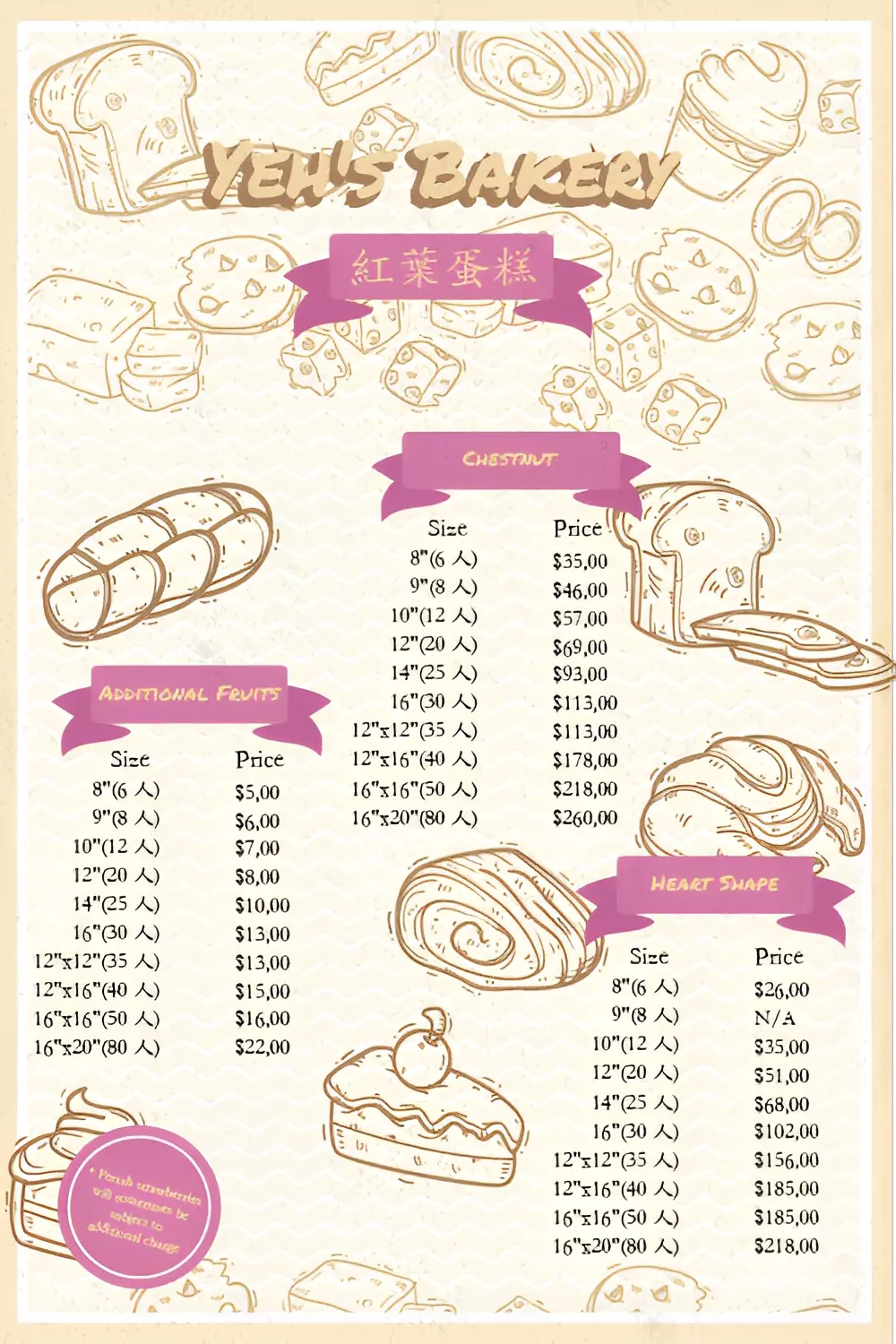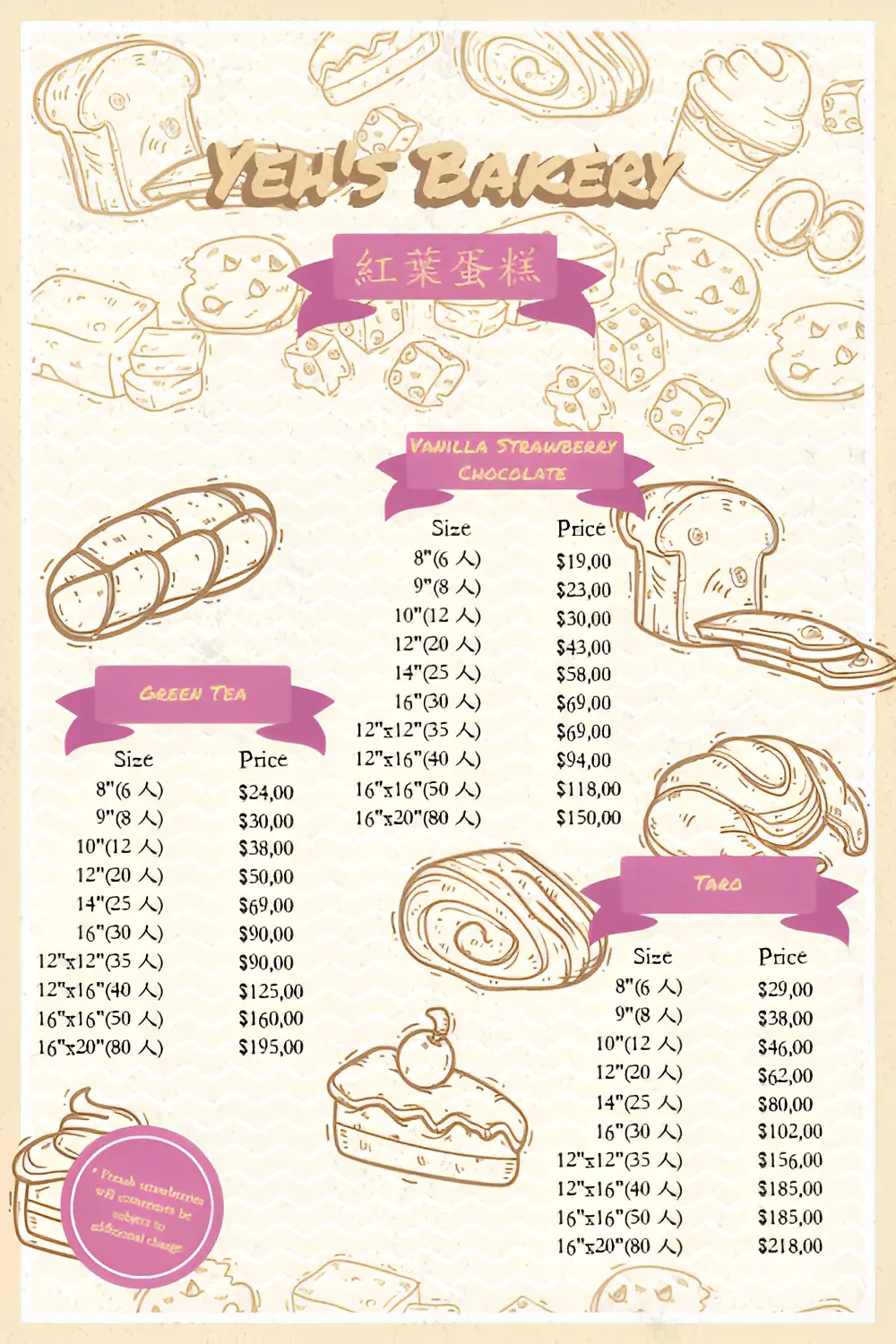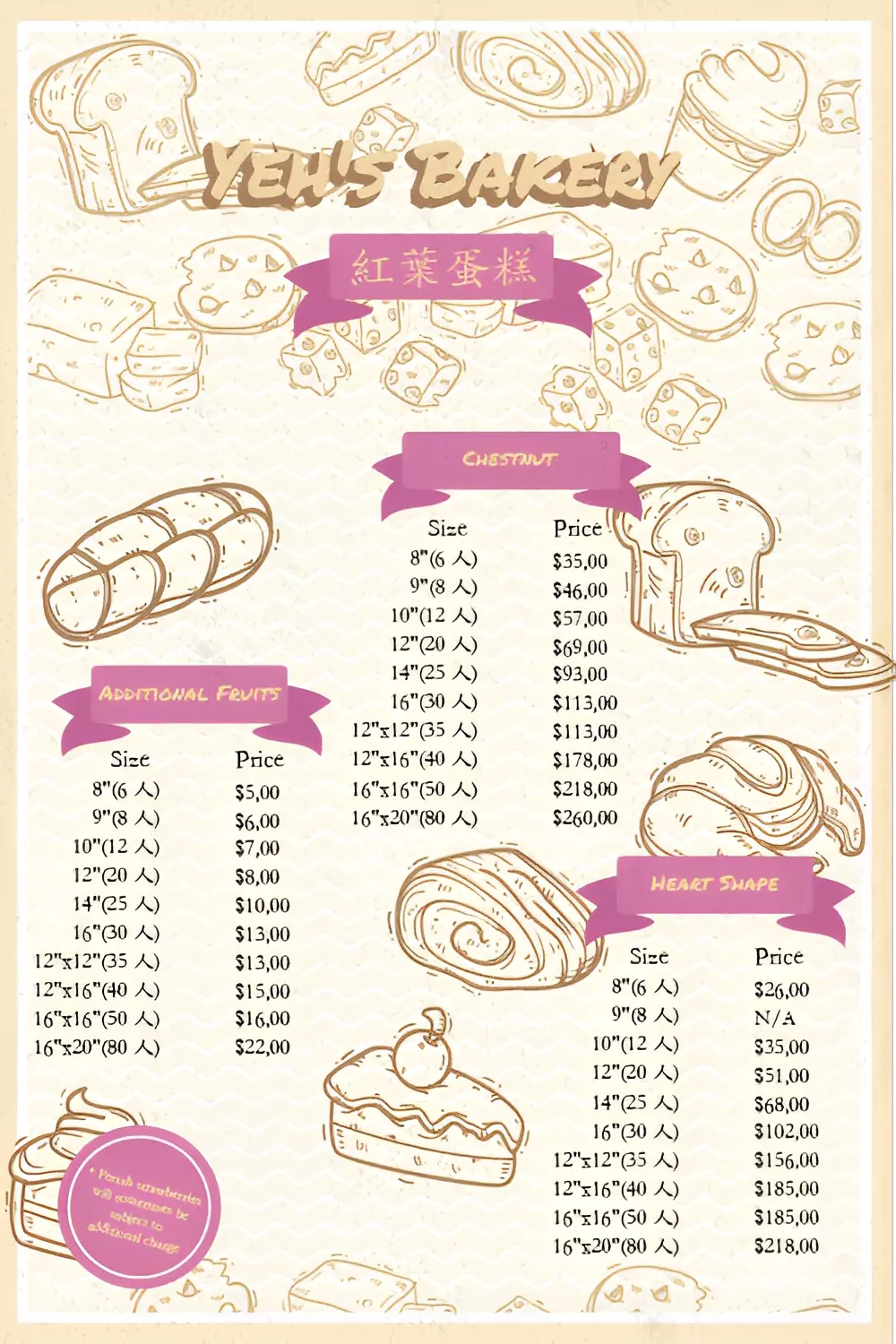 Premium Ingredients
Yeh's believe that the key to creating delicious pastries lies in using only the finest ingredients. From the flakiness of Yeh's croissants to the softness of Yeh's buns, every item on Yeh's menu is made with carefully selected premium ingredients. Yeh's prioritize sourcing locally and aim to incorporate organic and natural elements whenever possible.
Freshness at Yeh's Best
To ensure that Yeh's pastries are at Yeh's peak taste and quality, Yeh bakes them fresh every day. Yeh's skilled bakers start early in the morning, crafting each treat with precision and attention to detail. When you bite into one of Yeh's pastries, you can taste the difference that comes from the use of fresh ingredients.
Authentic Flavors
Yeh's Bakery takes inspiration from traditional Chinese baking techniques and infuses them with Yeh's unique twist. Yeh's strive to preserve the authentic flavors that have delighted generations while also embracing innovation. Yeh's diverse selection of pastries reflects this fusion, offering a variety of tastes to cater to different preferences.
Affordable Indulgence
Yeh's believe that everyone should have access to high-quality pastries at reasonable prices. Yeh's are committed to providing Yeh's customers with an affordable indulgence. From Yeh's classic favorites to Yeh's specialty creations, Yeh's menu items are priced competitively, ensuring that you can enjoy a delightful treat.
Value for Money
When you choose Yeh's Bakery, you not only get delicious pastries but also great value for your money. Yeh's generous portion sizes and attention to detail ensure that every bite is satisfying and worth every penny. Yeh's strive to exceed your expectations by offering a combination of quality, taste, and affordability.
Special Deals and Offers
To show Yeh's appreciation to Yeh's loyal customers, Yeh's regularly feature special deals and offers. Keep an eye out for promotions such as discounted combo sets, seasonal treats, or exclusive limited-time flavors. At Yeh's Bakery, Yeh's believe that treating yourself should be both delightful and affordable.